Hello folks. Thank you for coming to my press conference. I'd like to address this year's free agent class and the Knicks' recent activity.
You may have recently heard about the many developments other teams are making in the free agent market. Detroit, for instance, has picked up Ben Gordon, Charlie Villenueva, and Chris Wilcox. Many Knicks fans out there have been asking me, "Donnie, what are we going to do in the free agent market?"
/James Dolan muffled screaming in background.
We have many options to consider as we prepare not only for this summer, but also for the next. One of the major problems with this organization in the past has been a refusal to think long-term, and I think our success depends on a recognizition of the need for serious change in the goals of the New York Knicks.
/James Dolan's head sticks out from stage right, is pulled back by hair.
As part of this philosophy, we must look at our current free agent class as one in which spending presents us with opportunities for our upcoming season but saving provides us opportunities for the free agent market of 2010.
/James Dolan runs onto the stage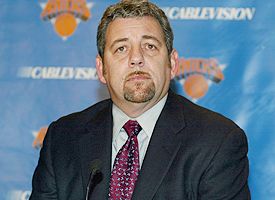 Dolan: DO YOU REALIZE YOU LET JAMAL CRAWFORD GET AWAY TWICE NOW, YOU OLD ITALIAN PRICK!!!!
Walsh: For the last time, Jim, I'm not Italian.
Dolan: WHERE THE FUCK IS THAT WOP DEGO COCKSUCKER WHO TOLD ME GALINARI IS THE FUTURE OF THIS FRANCHISE!
Walsh: Coach D'Antoni is at home in West Virginia. I already left you a note that he called to advise us to sign Ramon Sessions.
Dolan: SESSIONS? NEVER HEARD OF HIM. IS JAMAL CRAWFORD STILL A FREE AGENT?
/Beautiful woman appears at the side of the stage
Dolan: HOLY SHIT HOLY SHIT HOLY SHIT I WANT TO SUCK THAT LIKE A PIMENTO OUT OF A MARTINI OLIVE
/Dolan exits stage right, is grabbed as he reaches the curtain.
Walsh: As I was saying, our new strategy must be to spend with great care. It is for this reason that we made Ramon Sessions an offer one month ago and subsequently stopped talking to him entirely.
/Muffled screaming in the background. "
iverson! i want iverson!
"
Walsh: We believe this strategy is the best option for the future of the New York Knicks. Thank you.